Product Description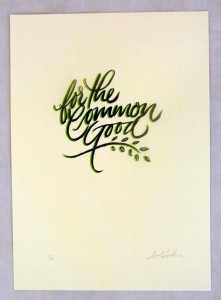 A strictly limited edition of ten hand numbered and signed prints of each design.
Silkscreen printed by Bradbury & Blanchard using water-based inks on recycled 350gsm stock.
Posters measure 16½" (420mm) x 11¾" (300mm), and are priced at £40, unframed.
What can you say about LORD BUNN? A behemoth of the Sheffield visual arts world whose work you'll probably know better than you think.
Working predominantly with calligraphy, his work is so beautifully rendered, it could easily be mistaken for typography. Lord Bunn's work graces the signage of many an independent business in Sheffield, and beyond.